Interested in staying in a skoolie Airbnb?
Here is a compiled list of the 16 best skoolie Airbnb rentals so you can try staying in a school bus conversion before buying a school bus.
Staying In Skoolie Airbnb Rentals
Chances are you are curious about building a school bus conversion, but would like to rent a skoolie to test out the skoolie Airbnb lifestyle to see if it's right for you.
We don't blame you! Completing a skoolie conversion is no small task, there is a lot to think about.
Chris and I wish we had stayed in a skoolie Airbnb or two to experience different skoolie layouts, what appliances were chosen, what skoolie finishing materials were chosen, and what size skoolie we really needed for the two of us.
So if you are thinking a skoolie might be right for you, you might just want to try it out before deciding. Without further ado, let's jump right into the best skoolie Airbnbs to stay in!
Skoolie Airbnb
These skoolie rentals are located all across the US. Find them sorted by region: West, South, Midwest, & East. Then further sorted out by the state, so whether you wanted to plan a vacation to rent a skoolie or just drive a few hours to get to stay in a skoolie near you, this skoolie Airbnb list will help you out!
Note: We do not own these photos. They are directly from Airbnbs website.

Note: Please read the listings completely on Airbnb before booking. We are giving an overview of the listing and listings are subject to change per the owners decision. We are not responsible for any booking or stay issues. Skoolie Airbnb's are best to stay in during the Summer months as many owners turn off the water lines in the Winter as the pipes do freeze. Read each Airbnb listing completely before reserving your stay. 
Jump to a Section
Skoolie Airbnb West
---
Skoolie Airbnb California
Shaver Lake, California
Photo Credit via Airbnb
Enjoy the Sierra mountains any time of year with a stay in this skoolie Airbnb located northeast of Fresno and just south of Yosemite National Park.

There are 20 acres of land to explore, so this is truly an off-grid skoolie rental experience!

They offer some awesome amenities, such as a solar shower, hammock, fire pit, outhouse, yoga deck, and a stargazing net! All of these are shared amenities within the 20 acre lot.

There are plenty of hiking trails to explore and take in all of the mountains and the beauty of nature.
Skoolie Airbnb Washington
Olympia, Washington
Photo Credit via Airbnb
The skoolie layout in the bus is a one-sided layout, not a center aisle layout, like many of the other skoolie Airbnbs listed here. This layout offers privacy in the bedroom without the need of a door to separate the living area from the bed area and it makes the area a bit more welcoming than center aisles.

This skoolie is lined with cedar. I imagine walking into this skoolie ready for my stay and it smelling just amazing!

This Airbnb skoolie has everything you need, such as electricity, running water, and a king size bed. This skoolie is complete with a shower and a Nature's Head composting toilet. It's nice to be able to experience using one of these as Nature's Heads are the most popular skoolie toilet option out there right now.
Skoolie Airbnb Oregon
Portland, Oregon
Photo Credit via Airbnb
This is a 1984 bus conversion rental in Portland, Oregon. The space has a kitchenette, electricity, running water, and even a bathtub! There is a queen size bed and the sleeper sofa will sleep 2.

Having a dinette area in a skoolie is a great way to differentiate the lounge area (couch) from the work/eat area (dinette). If you don't have a specific spot to sit down and eat, you might find yourself eating dinner on the couch.
Skoolie Airbnb New Mexico
Taos County, New Mexico
Photo Credit via Airbnb
This skoolie rental in New Mexico offers a minimalistic and very open design with no overhead cabinets and minimal storage options.

Staying in this school bus conversion rental is great for the eco-conscious. While they have a lot of rules, this Airbnb offers this skoolie on 10 acres so if you are looking for something truly remote, this will definitely fit the bill!

Hiking and hot springs are just a short drive away. This skoolie seems like the perfect place to stargaze as it's about 20-30 minutes from town so you will get no lighting distractions.
Skoolie Airbnb Colorado
Blanca, Colorado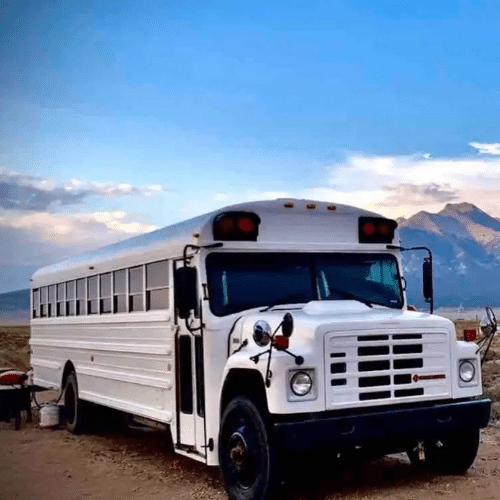 Photo Credit via Airbnb
This skoolie rental in Colorado is about 2 hours south of Colorado Springs. This Airbnb is great if you want to visit the Great Sand Dunes National Park, which is only 10 minutes away from this skoolie. This is a great skoolie Airbnb to stay in if you plan on living in a skoolie with a dog or cat, as pets are welcome!
Skoolie Airbnb South
---
Skoolie Airbnb Texas
Cedar Creek, Texas
Photo Credit via Airbnb
This bus conversion rental is tucked away on a 12 acre property in Texas just 30 minutes from Austin.

This skoolie has traveled all across the United States by the couple @tioaventuravan. So you truly have everything you need for your stay here in this bus as this skoolie was once lived in full-time!

This is another one-sided skoolie, which is fantastic for keeping the bedroom and living area separate. You are able to cook, eat, work, lounge, and play in the front of the bus while getting a good nights sleep in the back of the bus.
Austin, Texas
Photo Credit via Airbnb
This skoolie rental in central Austin is a great option to live the bus life for a few nights while still getting all your "regular" amenities. Hot water showers and a flushable toilet are there inside the bus so there's really no sacrificing anything with this skoolie Airbnb!

If you have a rustic design style, this might be the skoolie to rent for you!
Skoolie Airbnb Arkansas
Mountain View, Arkansas
Photo Credit via Airbnb
This Arkansas skoolie Airbnb is tucked away in the Ozark mountains. This skoolie is outfitted with everything you need for a lovely stay. Enjoy the nicely decorated skoolie or hang out outside and enjoy a campfire at night with some s'mores!

The owners of this skoolie rental kept the decor light and bright with rustic wood accents all around.

You will stay comfortable in this bus since it has a mini-split installed. However, mini-splits often draw too much power to be able to run them off-grid. If you are planning on staying parked and hooking up to shore power 24/7, then a mini-split may be a good option for you. If you want to live off-grid most of the time, we would not suggest a mini-split in your skoolie build.
Skoolie Airbnb Florida
Elkton, Florida
Photo Credit via Airbnb
Located just outside of St Augustine on Florida's East Coast lies this skoolie rental located on a farm!

The owners of this skoolie rental have included full private amenities for you, such as toilet, shower, sink, and a full range.

This skoolie rental backs up to a marina on the river. I would be happy enjoying my morning coffee in bed with a view like that!
Skoolie Airbnb North Carolina
Carolina Beach, North Carolina
Photo Credit via Airbnb
Have you considered what size school bus you are looking to convert? If you haven't already, go take our skoolie size quiz to help you decide what size skoolie is best for you and your family.

If you get a short bus, this skoolie rental in North Carolina might be great for you to test out before you buy a bus and start your conversion!

With a well-thought-out plan, short buses can give you the perfect layout and all you are looking for in a skoolie. Short buses will also help you "get up and go" a lot more than a full size bus would.
Bryson City, North Carolina
Photo Credit via Airbnb
This 40ft full size skoolie Airbnb in North Carolina is perfect for staying with a big family! It sleeps 6 with the king size bed and 2 bunk beds.

This skoolie rental is on a 6 acre "glampground" so there are some shared amenities, such as the shower, rec room, and firepits.

In order to get full-time living amenities with a large family on a skoolie, a full size bus is what you need. The bunk beds are a nice way to give each of your kids their own space inside the bus.
Skoolie Airbnb Midwest
---
Skoolie Airbnb Missouri
Saint Clair, Missouri
Photo Credit via Airbnb
This skoolie rental in Missouri sits on a 200 acre sanctuary!

You get access to not only the skoolie to stay, but to some shared amenities as well, such as the covered outdoor kitchen area, outdoor showers, lakeside gazebo, and kayaks. Enjoy days or nights on the rooftop deck!

Although there is no running water in the bus conversion rental, you can't beat renting this Airbnb with the lake being on-site!
Skoolie Airbnb Illinois
Golconda, Illinois
Photo Credit via Airbnb
Located right on the Illinois/Kentucky border, this open floor plan skoolie rental is available.

The way this skoolie is designed, you can tell it was made to be a parked bus conversion rental. If you are going to travel in your skoolie, you will want to make sure everything is bolted down to the floor and secured really well.

With a campfire and provided wood plus a two acre lake you can swim/fish in, this Airbnb skoolie is a nature lover's dream! This skoolie has an open skoolie floor plan and a "back porch" making it perfect for indoor/outdoor living.
Skoolie Airbnb East
---
Skoolie Airbnb Pennsylvania
Leacock-Leola-Bareville, Pennsylvania
Photo Credit via Airbnb
This skoolie for rent is one of our favorite skoolie Airbnb designs! A center aisle design with no upper cabinetry and symmetrical walls open up the front living space.

The curtains over the windows and in the front half of the bus offer complete privacy at night and there seems to be ample of storage space in the reclaimed drawers.

The couches pull out and meet in the middle to create a king size bed. There are also bunk beds in the back. With some extra cots and hammocks, the listing says this skoolie can accommodate up to 7 people, however if you want to be on the safe side and be comfortable, we would suggest no more than 4 people.

This skoolie rental is located just outside Amish country in Pennsylvania so you may wake up to hear horses and buggies passing by the property.
Skoolie Airbnb New York
Taberg, New York
Photo Credit via Airbnb
Have you been wanting to visit Upstate New York? It's definitely on my wish list! This skoolie Airbnb in Taberg, New York is just northeast of Syracuse across Oneida Lake. This seems like the perfect spot to visit Upstate New York.

This skoolie rental sits on 60 acres and with your stay, you can roam quite a lot of it including a 1/2 mile of river frontage, hiking trails, ponds, and a 3 season room.

We love how you are able to bring your furry friend with you for your skoolie stay with just a little requirements on your part and a small pet fee.

Living with a pet on a bus has different challenges than a house or an apartment would bring. You will want to make sure to build them their own bed and have different spots they can roam. You will also want to make sure that they are comfortable whatever the temperature may be.
Skoolie Airbnb Maine
Windham, Maine
Photo Credit via Airbnb
Last, but certainly not least, we have this skoolie Airbnb for rent in the Portland, Maine area with the most luxurious amenities. There is a saltwater pool steps from the bus, a scenic pond on the other side of the bus, and a hot tub on site. The owners live on-site so these amenities are shared.

The skoolie features everything you need in a tiny house, complete with a composting toilet, shower, running water, refrigerator, propane cooktop, and air conditioning. There is plenty of storage to make this space feel welcoming as you stay in it for a few nights!
*This article may contain affiliate links, which means we may receive a commission if you click a link and purchase something we have recommended. Please check our full disclosure policy for more details. Thanks for checking out our website and for your support!