Here is a list of the top 15 school bus conversion ideas to inspire you in your build or the alternative living lifestyle.

When we were designing our skoolie conversion, we went through so many different floor plans and layouts. We devoured school bus tours and were searching all over Pinterest and Instagram to see what we wanted out of our school bus conversion.

We figured we would help guide you to your style of bus with sharing some of our favorite short school bus conversions, mid-sized bus conversions, and full-size skoolie ideas.

Hopefully, these will help inspire your skoolie design!
Best School Bus Conversion Ideas
One Sided School Bus Conversion
@going_boundless did an amazing job on their skoolie conversion. We love the farmhouse sink and how one side of the bus is completely open. That makes this skoolie feel a lot more open.


These guys still have everything from a full size kitchen, a couch, a closet, even a washer / dryer combo underneath their bed. That would be very nice to do laundry in your skoolie. We think they did a great job maximizing their space.
The Guys Bus Conversion
This school bus house belongs to @navigationnowhere. I believe this was one of the first bus tours Chris & I watched together. We were so amazed and inspired by this video, that we were like sign us up to build our own skoolie!
Tiny School Bus Conversion
This school bus house is a very minimalistic bus build. @fernthebus has 6 windows and seems like they did a great job at maximizing every inch of their space. They kept everything raw wood and white paint to keep their space open and bright, which is great for a smaller space.

Can you believe they are out traveling with a baby? Most people with children get full size buses but these guys are doing just fine traveling with their baby with their tiny house bus!
Cozy School Bus House
This school bus tiny house kind of reminds us of our skoolie conversion with the butcher block countertops, dark cabinets, and gray couch cushions. We are definitely picking up on @smallandsimplebus's skoolie design vibes!

But we gotta say they did a really great job finishing their windows and we love the light and bright ceiling they hung! They also made their own table out of pallet wood, we love a good pallet project!
The Modern Bus Conversion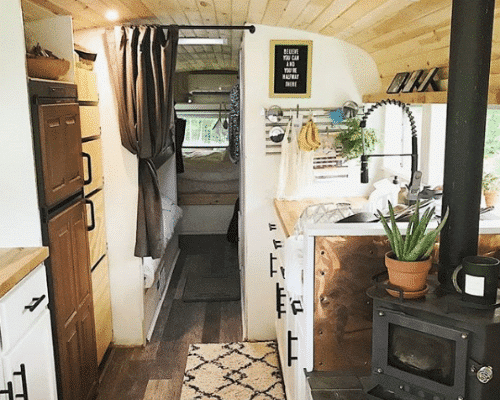 We named this one 'the modern bus conversion.' We love how @basicallynomads framed out their kitchen area with that pretty backsplash. Their desk area is very nice too, having the two across from each other. Sometimes Chris & I's stuff is impeding on the others persons side, which can be a little annoying.

They installed their cubic mini wood stove right next to their kitchen in the front of the bus. This is a good idea. In the beginning of the winter, we were huddled in bed all day, since we installed our cubic mini right by our bed. Then, we bought and installed our RV furnace right next to our desk area. This helped a lot with our coldness issue in the front of the bus. But anyway, it sure would be cozy to have a fire right next to your working space! Check out our best skoolie heat options.
Bright & Light Skoolie Bus Conversion
We love how this kitchen is very open with no upper cabinets, so you can see the full school bus when you look down the center of the bus. Even with no upper kitchen cabinets, @slothhighfive still seems to have plenty of storage with their double-sided kitchen and underneath cabinets, as well as their storage bins right next to their kitchen. There's storage everywhere in this skoolie conversion!

We also noticed they went with the DynaGlo, a propane heater, for their heat source. We were going to install the DynaGlo in our skoolie, but ultimately went with the Cubic Mini Wood Stove and an RV furnace for our heat sources. If you're interested, you can find the DynaGlo here on Amazon.
Mid Century School Bus Conversion
There's something very satisfying about this skoolie design – the clean symmetrical lines, the soft, sanded plywood everywhere and the openness to the layout. We give it to these guys for the unique design in this school bus home, @gilliganphantom is unlike anything we have seen before. It gives you a clean fresh feel. Who wouldn't want to be surrounded by this vibe every day?!
Shiplap School Bus Conversion
We are naming this school bus conversion the 'shiplap bus conversion' because that is an impressive amount of shiplap in a skoolie.

@happyhomebodies's design is so open but I guess that's almost what you need when you live with 3 big dogs in your school bus tiny house. Good thing they have a full size school bus and did a roof raise to give them as much space as possible!

We love how they made their front dash area cozy with a bunch of pillows and blankets, it makes the skoolie seem so welcoming!
Our School Bus Renovation
Oh hey! That's our skoolie! @skoolielivin

We built our skoolie with a center aisle in mind. We went through many different designs and layouts. We really wanted to do an 'L' or wrap around kitchen and couch, but ultimately a center aisle gave us the most utilized space – especially for a 9 window school bus.

Some of our favorites in our school bus house are our Dometic RV range off eBay, Kraus faucet off Amazon and our Express Water 11 Stage Reverse Osmosis drinking water filtration system off Amazon.

We live most of the time in Wisconsin and winters are harsh. Our Suburban RV Furnace is mounted in the front half of the bus, while our Cubic Mini Grizzly wood stove is in our bedroom area. We also have an Ecobee WiFi smart thermostat to control the temperature inside our skoolie. Winter in a school bus is no joke, nobody wants to be too cold! Recently, we added a diesel heater for a 4th heat source.
The Bright White School Bus Conversion
The @evergreen.bus takes the cake for being the shiplap school bus #2. Ahh if only Chris would have let me put more shiplap into our skoolie.. because this skoolie conversion is dreamy!

Now, these guys have a 40 ft full size school bus (14 windows), so they were able to pack in a great size kitchen, a 3×3 shower, a beautiful, massive desk area, and a washer / dryer combo! As well as the other goodies like closet space and a nice size couch.

If we would do it over again, this is the bus to emulate!
The Cabin Bus Conversion
@onewildridebus school bus conversion has a cozy cabin vibe to it with all the wood accents and the pop of orange!

We love the little dinette they made for their space. It's always nice to have a spot to sit down and eat a meal or to jump on your laptop and get some work done.
The Family of 5 School Bus Conversion
This school bus house's five people! @thebusfamily, has bunk beds in the back for their children and they still have plenty of space for lounging around and a nice kitchen!

We can't help but notice that sink! That is the biggest sink we think we have ever seen in a skoolie! But hey, when you are raising 3 children in a school bus, having that big of a sink I'm sure has some major benefits. Baths and doing allll those dishes. Major envy over here!
Family of 4 School Bus Tiny House
This family of 4 homeschools their children while traveling in their school bus tiny house. Doesn't that sound like the dream?! It seems like they spend a lot of time outside with their kids too!

Their school bus has bunk beds in the back and storage for their children. As far as the kitchen, we love that herringbone wall!

If you check out their instagram @deliberatelifebus, they have teal floors now. What a cool color choice!
Short Bus Tiny House
@birdthebus did their short bus conversion right with the bed being able to be stored away versus being stationary! This gives these guys so much more room for activities! Haha but seriously, this is great to have for a short bus that has only 4 windows. We think they definitely maximized this space!
Spanish School Bus Conversion
Lastly, we end with this beautiful full-size Spanish school bus conversion. This conversion is on another level with this Spanish vibe. I mean, everything fits this vibe to a T from the kitchen cabinets to the stove to the wall opening up to the outside. @somedrifters is truly a one of kind school bus conversion!
There's our list of the 15 best school bus conversions! Let us know what you guys think of these school bus conversions!
Which skoolie conversion did you like the most?
Comment below and let us know what you think!
*This article may contain affiliate links, which means we may receive a commission if you click a link and purchase something we have recommended. Please check our full disclosure policy for more details. Thanks for checking out our website and for your support!