We put together this list of short bus conversion ideas gathered from our classifieds. If you are looking at this, you are probably looking to see if a short bus is right for you. Our goal with this guide is to inspire you with some unique short bus skoolie layouts and help you design a short bus skoolie floor plan that fits your needs.
The Challenges of a Short Bus Conversion
Building a short bus conversion is a challenge due to the limiting space. A 4-window bus conversion definitely is much more cramped than a 5-window skoolie. Going to a 6-window short bus skoolie does give you the maximum amount of space a van-chassis short bus can provide.
In all of the short bus sizes, there is another limitation beyond just space – the chassis weight limitation. When building a short skoolie, you have to be very conscious of the weight limitations of the chassis of the short bus since you will create substantial risk if the vehicle is overweight. The excess weight will also cause damaging wear and tear on the bus engine and transmission, suspension, and especially the brake system.
These are pretty much the only limitations of a short bus conversion unless you start getting into the more detailed subjects of greywater tank space underneath, rooftop space for mounting solar panels, or space for a larger battery bank to power the skoolie.
Best Short Bus Conversion Ideas
Now, let's dive into some of the best skoolie conversion ideas to inspire your short bus conversion layout design!
4 Window Short Bus Conversion Idea
This skoolie catches the eye for the sheer reason it looks like there's so much room in this short bus. You've got a cooler fridge, a full range, upper cabinets, a bed, and a couch with a table, all in a 4 window short bus conversion.
5 Window Short Bus Conversion Idea
This short bus layout has tons of counter space, a couch/bed area, and a separate room perfect for a bathroom or a closet. Even though there's minimal upper cabinetry for less storage, it creates an open concept feel and has storage with the lower cabinets.
Pine-Lined Short Bus Conversion
If you are a fan of natural wood, this short bus conversion interior may draw your eye. From the ceiling, walls, and butcher block countertops, this short bus design gives off a rustic vibe. With two walls to give the bed a room, this layout offers more privacy than most other conversions. A couch and dinette give a lot of spaces to hang out and "live" in.
Short Bus Conversion Idea with Crib
This short bus van conversion seems to have it all. A couch, a foldout table, a fridge cooler, a kitchen, a crib, a bed, an area for the dog, and yes even a wet bath. The table pulls in to store it away and pulls out when you want to use it. The wood finishing materials with the green cabinets help to make this skoolie look polished.
Open Concept Short Bus Design
Lots of counter space and a big fold-out futon make this short bus layout feel very open, especially with no upper cabinetry. Storage space may be limited with this conversion idea, so putting more storage ideas into the build may be beneficial.
Short Bus Conversion Idea with Second Seat
This is a picture taken from the bedroom area. A kitchen sink, range, couch, and an extra passenger seat are the main features of this skoolie short bus conversion. Often, there isn't much room for an extra seat with a seatbelt so many people just sit on the couch when traveling in the skoolie, but if a short bus can fit an extra seat, a mid-size or full-size bus can as well.
Half Walls Short Bus Idea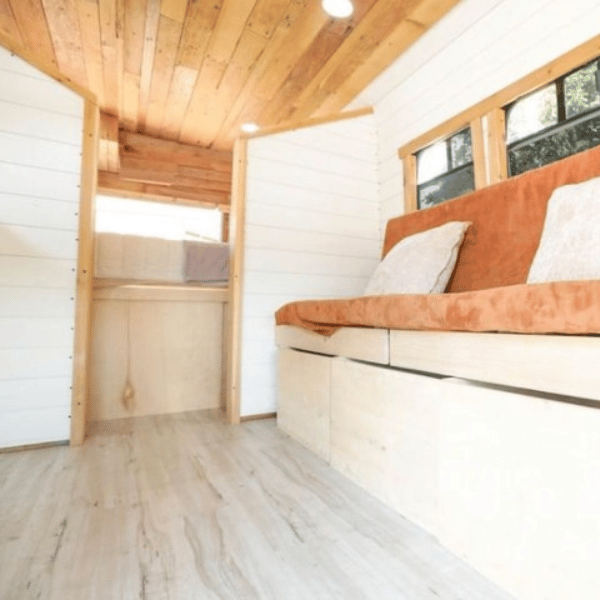 The white and wood design in this short bus makes for an open concept feel. Including half walls keeps the space open yet offers enough privacy for sleeping. A foldout couch with storage is another option for a sleeping arrangement.
Work From Home Ready Short Bus Conversion
Many people looking to convert a skoolie work from home, so having a space to work built into your skoolie layout is imperative. This short bus conversion has fit an office space for two, a kitchen, a bathroom, and a bed along with plenty of upper cabinet storage and under the bed storage.
Log Cabin Short Bus Camper Conversion
Like the design of a cozy log cabin? If so, this short bus camper conversion probably catches your eye! Completely made of wood, this skoolie was designed with two skylights, a pull-out couch/bed area, and even a full bathtub!
Short Bus Conversion With Lots of Storage
A view from the back of the bus looking forward. This short bus RV conversion utilized a ton of storage in their design. From the overhead bookshelf area to the drivers area trunk, in-wall storage, entryway table area, and side shelves, this short bus conversion has plenty of room for full-time living!
Boho Short Bus Conversion Interior
A wet bath, bed, kitchen, couch, and foldout table with plenty of storage, this is a short bus skoolie to emulate if you want it all. Visit the link above to see the full listing with more pictures of the inside of the bus.
White & Wood Short Bus Skoolie Idea
Utilizing under the bed storage in a short bus conversion is of utmost importance because of not having a ton of space for storage in other areas of the build. This skoolie design features just that as well as a full kitchen, bedroom area with cabinets, and a couch.
Convertible Bed Short Bus Design Idea
This short bus skoolie is designed with a dinette in the back of the bus which can be put down at night to create a bed. Converting a short school bus can be a challenge as it's a smaller space to work with. Having the dinette converted into a bed allows for more space to move around in your skoolie as well as provides a gathering space for friends and family to hang out in during the day.
Full Kitchen Short Bus Layout
An entryway table, a lengthy couch, a kitchen, a closet, and a bathroom, what more do you need in your short bus conversion layout?
Mobile Shop Short Bus Conversion
All of the short bus conversions so far have been places to live in or camp. It's unique to see another use for a short bus, a mobile shop. Housing home decor, lifestyle products, clothing, or even a coffee bar, short buses can be turned into many different things. If you are looking to open up a mobile shop, consider a short bus skoolie as the bones to start your project!
Rustic Interior Short Bus Conversion
Not many short bus conversions can find the space for a wood-burning stove, but this skoolie has done just that! Placed between their kitchen sink and their range, they placed their fireplace. Working or hanging out near at the dinette, you will for sure stay toasty. The bed and bathroom are near the back of the bus.
L Shaped Couch Short Bus Design
If you are looking to design a DIY short bus conversion with lots or room to lounge, this wrap around couch is a great way to do just that with a short bus skoolie. The kitchen features a sink with a countertop cooktop.
Short Bus Skoolie Conversion with Bedroom
Dinettes in a short bus tiny home conversion make a lot of sense as it's a very multi-use space. From eating dinner, playing cards, working on your laptop, lounging, gathering with friends, extra storage, this is a very versatile space, which is why a lot of people make space for one. This specific dinette converts into a couch for daytime lounging or for use as a guest bed. You could easily place a curtain between the walls of the bedroom to offer complete privacy.
Full Amenities Short Bus RV Conversion
Most short bus conversions can't find the room for a walled-off area for the bathroom. You will see many short buses that have a pull-out cabinet for the toilet and an outdoor shower. This conversion offers a complete private bathroom. A kitchen, dinette, extra counter space, storage, and a bed make this a good full-time short bus layout.
Symmetrical Short Bus Camper Conversion
With no upper cabinets, you can see all the way to the back of this short bus conversion. The couches being right across from each other, offer a guest sleeping situation. A built-in table height desk and extra counter space complete this skoolie short bus conversion.
Complete Short Bus Conversion Layout
With a handicap door and the back door, you can get a nice breeze with both of these doors open creating a nice cross breeze!
Have you been thinking about a short bus conversion? Take our skoolie size quiz to find out what size skoolie you need. The answer may surprise you!