When it comes to deciding which of the skoolie couch ideas to go with, there are a few things to think about including size, placement, style, and construction.
In this article, we will go through:
Pull out couch bed, or not
Placement
Building a Skoolie Couch
Skoolie Couch Dimensions
Couch Cushions
Skoolie Couch Design Ideas
Skoolie Couch Build Videos
Let's dive in!
Couch Bed or Not
A couch is a great skoolie design idea as you can build in storage underneath while adding in another spot for someone to sleep. The couch can be designed as a single bed, sort of like a day bed, or designed to pull out into a full, queen, or even a king-size bed.
Two of the main benefits of building out a couch that turns into a bed is the added spot for somebody else to sleep if needed and having this could possibly increase the value of your skoolie. If you are already going to be building out a skoolie couch, designing it so with the added benefit of turning into a larger bed isn't that much more work than not doing so. This can allow up to two or three people to sleep on the pull-out skoolie couch, which can be great for larger families or two couples staying in the skoolie.
Alternatively, you can choose not to build out a couch that turns into a bed and build a couch that just stays put. This may work for you if you are planning to live in your bus by yourself or don't plan on having people over often. However, if you ever plan on selling your skoolie you might want to do the few hours of added work to have the couch pull out even if you will probably never use it – the added feature is another selling point.
Placement
You can essentially place your skoolie couch in the front of the skoolie, back of the skoolie, or the center of your skoolie. The placement will be dependent upon if you want to use your couch as your bed, what size skoolie you have, and how you want to use your skoolie (family only, have lots of people over, etc).
Couch In Front of the Skoolie
Placing your couch in the front of your skoolie gives you a separate lounging area from the bedroom area. This placement is great if you want to have people over often or if you want a dedicated lounge spot for yourself. It can be really inviting to have your skoolie couch near the front of the bus so that when people walk into your skoolie, there is that homey vibe.
Couch In Back of the Skoolie
Another option is to place your couch near the back of your skoolie. This is great for smaller skoolies to optimize the floor plan layout or for people who want to use their couch as their bed. You could choose to build couches on both sides of your bus or just on one side and then make it a pull-out bed to optimize sleeping space.
Couch In Center of the Skoolie
Placing the skoolie couch near the front or the back of the bus are the most popular options. But you could also choose to place your couch in the middle of your bus. Some of the most common things you will find near the middle of the bus are the kitchen, bathroom, bunk beds, and closets. If you can configure these towards the front or the back of the bus, you could place your skoolie couch in the middle. Placing the couch in the middle of the bus could be a great idea for people with full-size buses since there is so much room in full-size buses.
Visit our skoolie floor plan article here to get information on creating a floor plan layout during the skoolie couch ideas and placement decision process to make sure your couch design will fit properly.
Building
There are many different ways to build out a skoolie couch. Depending if you want the couch to pull out into a bed or not, you will have to build them a bit differently. We'll go through not building a pull-out skoolie couch bed and building a skoolie pull-out couch bed.
Not Building a Pull Out Couch Bed
If you choose not to build a pull-out couch bed, you will essentially just build a solid structure and storage options into your couch.
Building a Pull Out Couch Bed
If you choose to build a pull-out skoolie couch bed, there are a few different ways this can be done. We'll go throug drawer pulls and wood slats with front support below.
Drawer Pulls
We built our couch with drawer pulls to convert our couch into a bed and this is definitely what we suggest everyone to use! We used heavy, industrial drawer pulls that together can hold up to 500 lbs. They slide out seamlessly with one hand.
We used 2x4s to mount the drawer pulls to and mounted a piece of plywood on the top to support the cushion from sagging down.
The biggest benefit of creating your skoolie couch with drawer pulls is the fact that you do not have to have a front support on the couch as the drawer pulls will support the couch when fully extended.
Wood Slats with Front Support
This is probably the most popular skoolie couch design build-out.
The way to build out a couch with wood slats is to alternate the wood boards (usually 1x4s) and pull one forward, let the next board stay, let the next one pull forward, let the next board stay, and so on until the desired width of the couch is achieved.
Because of there being no supports for this couch design you need to make a front support that pulls out with the alternating wood slats when converting it into a bed. Whether you have a rug in front of your couch or your dog is sleeping in front of the couch, you will have to move anything in front of the couch before pulling it out.
Depending on how the couch is built, when extending the couch into a bed, the slats can fall down into the storage area and can be a pain to fully extend. You may need to have help to pull out the bed with a wood slat design.
Skoolie Couch Dimensions
The depth and how wide you build your skoolie couch will depend on the size of your skoolie and how much room you have for a couch in your floor plan. But the height of the couch was one of our burning questions when we were building our skoolie couch. We wanted to be able to fit storage bins underneath our couch and had to make sure the couch was tall enough so we could do this. But we didn't want the couch to be too tall where it would block the windows.
The standard height of a couch is between 15-20″ and the deeper the couch is, the shorter the couch should be. This height is based on measuring from the floor to the top of the cushion, so be sure to know what size cushion you will be using to get accuracy of how tall to build your couch. This is a good rule to follow when building our your skoolie couch to make it as comfortable and as close to a regular couch as possible!
Skoolie Couch Cushions
Another thing to point out about skoolie couch ideas is cushions. You can either make your own cushions by buying some foam and sewing fabric together. Or you can buy some pre-made couch cushions. If you are considering buying cushions for your skoolie couch, be sure to know what cushions you are buying so you can build out your couch for the right size. If you are creating custom cushions, know which foam you are going to buy so you know how big or small you can build your couch.
Skoolie Couch Ideas
Now, let's dive into 16 different skoolie couch ideas.
Corner Skoolie Couch Idea
Having the couch as the first thing you notice when walking into your skoolie makes it feel really cozy, especially with all of those pillows and blankets! This makes for a really big entryway in your skoolie. Oftentimes when you have something right away in your skoolie, it makes the entryway feel very small. But when you can push things back a bit and open the entryway up, like they did with their couch here, it makes all the difference!
Wood Slat Couch Idea
The wood slat couch design has to be one of the more popular skoolie couch design ideas. Every other slat pulls out to expand the couch to be used as a bed. There are some benefits and cons to this design. The benefit is that it is pretty simple to build. Some cons are that it could sag in between the slats leaving little support when pulled out as a bed. The other con is that it is not a seamless process to expand the couch, it's very clunky and the slats can fall down in the process.
L Shape Skoolie Couch Idea
If you like to lounge on your couch like a chaise lounge, one of the better skoolie couch ideas for you might just be the L-shaped skoolie couch! I love how this couch design offers more space than just a couple of people being able to sit on it. Making it as wide as the drivers seat helps to not take up much space in the center aisle as possible.
Skoolie Couch Idea In the Back of the Bus
This skoolie couch idea is unique in the fact that it is in the back of the bus. Usually, people tend to build their couches up front. But in this skoolie, these couches double as a bed at night, great for people who want their separate bed as this couch does not pull out. It's great for having people in your skoolie to hang out with couches on both sides.
Skoolie Drawer Pull Couch Idea
This is our skoolie couch design. We used drawer pulls to be able to pull out our couch and turn it into a bed. The pulls together can hold up to 500 lbs. We store a piece of plywood underneath our couch cushion to put on top of the slide out mechanism to make sure the couch is even and give it thorough support. This whole thing then lifts up and gives us plenty of storage underneath for bins. Our diesel heater and our battery bank is also stored underneath our couch in different areas.
Skoolie Couch Idea with Open Storage Underneath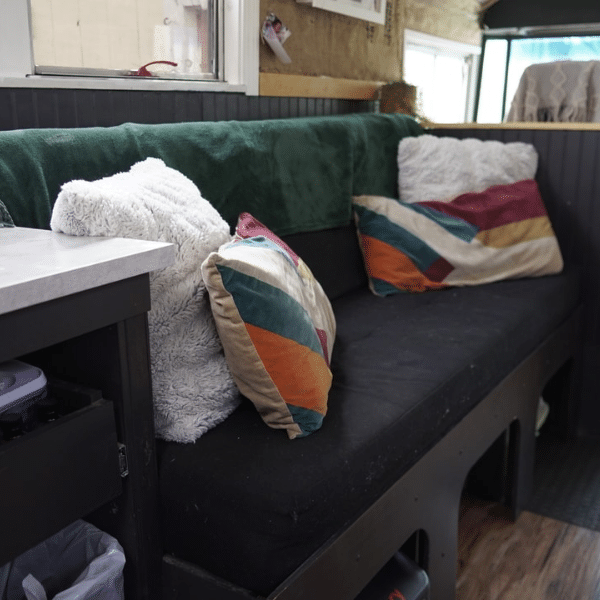 Most people like to use their couch with hidden storage underneath. This skoolie couch design went a different way with an open bottom. You could utilize this space with storage bins or if you have a pet, you could put their bed underneath the couch and all of the extras they need, like food, toys, treats, etc.
Skoolie Couch with Drawers
Many people building their skoolie couches go for the lift-up storage option, so I had to be sure to include a drawer storage option. Having drawers versus an open storage option has some pros and some cons. For example, if you decided to install a diesel heater underneath your couch, you may not be able to do drawers and may have to do a lift-up. However, drawers can be really nice if you are looking for an optimized storage area.
Hinged Fold Down Skoolie Couch Idea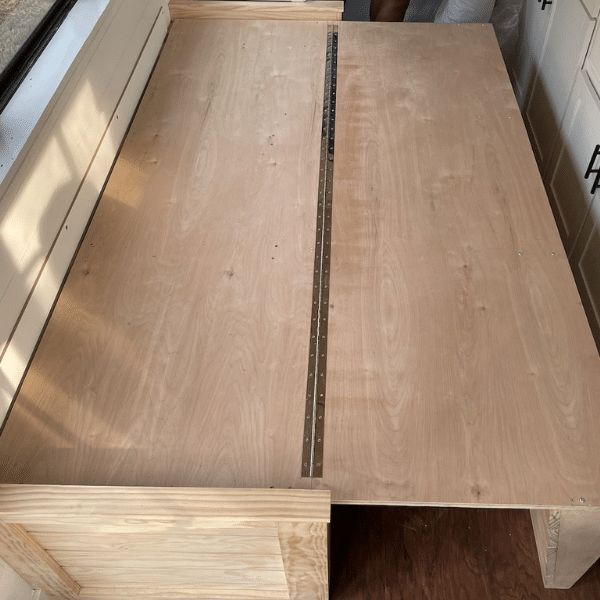 This skoolie couch had to be included in this couch idea article as it is a very unique way to build out a skoolie couch. Many of the other couch design ideas in this list pull out to make it a bed. This skoolie couch folds down and the back rest is actually the support beam on the floor. What a genius idea!
However, there may be some problems you run into when doing this. Before pulling out the bed, you will have to move the cushions off, fold down the back part, and then put the cushions back on it. Another downside to this design is the storage underneath. Based on the design of this couch and the way everything is put together, you most likely will not be able to lift this couch up. In order to access the storage underneath the couch, you will need to access it from the front whether it be open storage or drawers.
Skoolie Pull Out Couch
Having a skoolie couch with armrests means you can have cup holders and these can come in handy often! I like the idea of having the couches on both sides of the skoolie so you can extend both of the couches and have a full widthwise extra bed for sleeping.
U Shaped Couch Design
Any U-shaped, L-shaped, or corner skoolie couch idea makes it for a really inviting space. You can have people over and engaged in conversations differently when you are actually facing other people versus when you are side to side. This couch design idea would be perfect if you plan to have company often!
Sofa As a Skoolie Couch
If you are moving into your skoolie from a house and already have a couch, you might be able to just use that as your couch in your skoolie. It would be pretty simple to build, all you have to do is get it into your skoolie :). If you are looking to maximize every inch of space, however, this may not be a great option for you as it takes up a good amount of space without any storage solutions.
Skoolie Couch Design with Lift Up Storage
This couch lifts up from the side, which is really nice if you wanted to put bins inside this storage area. If the couch lifts up from the front, it can be difficult to get bins in the storage area because there is not enough room. They utilized this space for all of their shoes, which makes perfect sense as it's right by the front door.
2 Couches with Open Bottom
Depending on the placement of your couch, you may have to deal with wheel wells. With this skoolie couch idea, they left the bottom of their couch open to account for the wheel wells. If you don't need the storage area, it seems really nice to leave the bottom of the couch open!
Skoolie Couch with Table
Sometimes there's not enough room to have a big couch and a separate dining area so this skoolie couch idea with a built in table fits the bill for smaller spaces! You get all of the comforts of having a regular couch with a place to sit, eat, work, and play. The best thing about this couch is that it also folds out into a bed!
Pull Out Couch Bed
Like the couch idea above, we have another "regular" couch. This one pulls out into a bed so you already have another sleeping option in addition to the bedroom area and you don't even have to build out a skoolie couch!
Couch Idea as Dining/Gathering Area
This skoolie couch idea made this list as it's a great use of the couch space to act as a gathering area for having friends over and hanging out. If you like this idea for your skoolie couch design, be sure to have a designated spot for the table.
We made a few mistakes during our build and some of them were not having designated spots for things when they aren't being used. Check out our skoolie mistakes article here.
Skoolie Couch Build Videos