The first thing people see entering into your skoolie is the skoolie stairs. Some go bold with a wild skoolie stair design, while others tie the stairs in with the rest of the interior of their skoolie.
Here are 9 skoolie stair ideas with a few tips to building out your skoolie stairs.
Building Out Skoolie Stairs
Building out the skoolie stairs is just as important as building out the subfloor inside your skoolie. From treating it with a rust converter, painting it with Rustoleum, framing it out with 2x2s, insulating, plywood, and then adding your finishing materials, building out your stairs is just like your flooring.
Framing
To frame out your skoolie stairs, add the support wood to both sides of the stairs. Use 2x2s or 2x4s and long screws to mount them to the metal of the stairs. Also, cover the siding metal with plywood in the stair area. You could also choose to insulate this if you wanted.
Insulation
You will want to insulate your stairs as it can be a very drafty area in the bus! Pink sheet insulation is the most common unless you want to use spray foam. But pink sheet will help to even the stairs for when you finish them. Be sure to use the same thickness of the wood framing used and place it between the framing boards.
Finishing
Mount plywood over the top of the framing and insulation. Then, decide on how you want to finish your skoolie stairs. From the same flooring used in the bus to astroturf to carpet to decals or tiling, there are many different ways to finish out your skoolie stairs.
Now, let's see some ideas on how to finish your skoolie stairs!
Best Skoolie Stair Ideas
Let's get into some of the inspiration now. Here are some great skoolie stair ideas to inspire your stair build-out!
Astroturf on Stair Idea
Artificial grass on a skoolie stairwell is a functional piece to add to the entryway. It can catch all of the dirt that you track in from your shoes unlike regular flooring on the stairs can. I like how they added a rough entryway mat to their first step as this will help even more with lessening the tracked-in dirt.
White & Wood Skoolie Stair Idea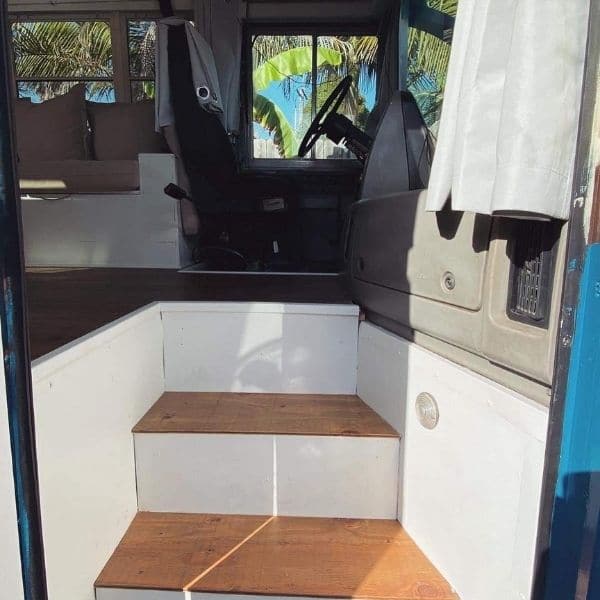 This skoolie stair idea is a very minimal design with painted metal and wood stair treads. If you're not traveling to colder climates, this may work for you. But if you are planning on traveling to/living in colder climates, you will want to insulate your stairs and finish them out a bit more. The metal will get very cold and be a very drafty part of the bus.
Industrial Skoolie Stair Idea
This skoolie stair design gives off an industrial vibe with the black diamond plate on the first tread and reclaimed wood on the rest of the stair treads. You will want to make your stair design very durable and rigid to be sure it holds up going in and out of the bus so many times. If you are going to do wood stair treads, be sure to seal the wood good so it doesn't get wet and start growing mold.
Rugs for the Stairs & Railing
Adding carpet stair treads on top of whatever you do underneath, is a great idea in a skoolie. The carpet treads can help protect what is beneath it. This will help to keep the most trafficked area in your bus in tip-top shape! I like how they added a railing and a nook to the stairway. This is great for kids and older people to have something to hold onto while climbing up the stairs of the bus!
Vinyl Flooring Skoolie Stair Idea
If you are looking for a cohesive stair idea, finishing your stairs with the flooring you used throughout your bus is a great idea! There's no way to clash with the design of the bus this way, so it's a pretty easy design idea for anyone! Just be sure to insulate it before laying the flooring down.
Wood & Carpet Stair Idea
If you are looking for something practical to do on your skoolie stairs, putting down carpet on the treads may be just that. Rough carpet helps to get the debris off of shoes so stuff isn't being tracked into your tiny space. I like how they finished their stair risers with wood that matches their ceiling and walls in the rest of their skoolie.
Skoolie Stair Idea with Decals
If you are looking to do something fun on your skoolie stairs, putting a decal on the stair risers is a great idea to make it different! I like how they used their regular flooring throughout the bus onto the stair treads and added a pop of something on the stair risers. It's fun, warm, inviting, and unique!
Rubber Skoolie Stair Idea
Putting down rubber on the stair treads is a great idea to waterproof the stair area in a bus. From dirt and debris to the water and mud on your shoes, the stairs get a ton of traction when this is the only way in and out of the bus. So laying down something that is durable and waterproof will help the stairs to hold up a long time.
Plank Flooring on Stairs
To wrap up our skoolie stair design ideas is another plank flooring that was used throughout the skoolie as the steps. It's a classic and great design idea for anyone. Be sure to insulate the stairs so you aren't mounting the flooring directly onto the metal.