This is a comprehensive guide on how to get school bus conversion insurance based on months of research and the process of getting insurance for our skoolie. From getting insurance for a new bus you just purchased to cover yourself when you drive it home, to getting full coverage skoolie insurance when you are finished with your school bus conversion.
We'll go through:
Myths about school bus conversion insurance
Two types of skoolie insurance
Our story of getting full coverage school bus conversion insurance
Tips for getting insurance for a skoolie
School Bus Conversion Insurance Myths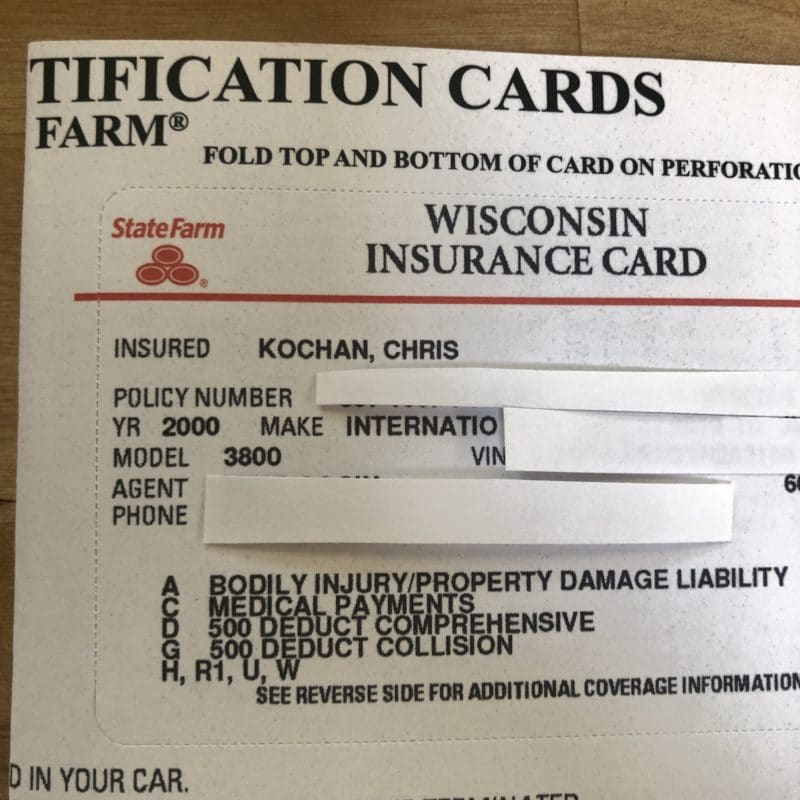 Finding out information on how to get school bus conversion insurance is a messy road to venture down. There are alot of old articles and forum posts out there. Some of which made both Sarah and I nervous about insurance throughout most of our build.
Fortunately, the industry has moved forward and State Farm has come a long way to offering full coverage school bus conversion insurance. (Can vary by state to state though.)
Two major myths are that it is hard to get school bus conversion insurance and skoolie insurance is expensive.
Both couldn't be more true, but you do need to know that there are two types of insurance for skoolies.
Two Types of School Bus Conversion Insurance
There are two types of insurance you'll want to get if you are doing a conversion on your own. If you are buying a finished skoolie, you'll go right to the second type of insurance.
1) Commercial Vehicle for Personal Use Insurance
The first type is for buying a used school bus and driving it home, then having insurance through the build process. This is what I would call your "conversion insurance" as it is insurance for the buying and build process of your skoolie.
2) Full Coverage School Bus Conversion Insurance
This is basically regular RV insurance, but there are a few extra steps us skoolie owners need to go through during the insurance underwriting process to be able to get insurance. Full coverage school bus conversion insurance is obviously the end goal, as it covers liability, comprehensive, and collision insurance. You are basically fully covered, as the title implies. From our experience, the conversion will have to be "complete" to get this insurance.
Let's dive into each a bit more.
Commercial Vehicle for Personal Use Insurance
For: Used School Buses & During the Skoolie Conversion
You obviously need insurance to drive a used school bus home. Then you'll probably want insurance while building a skoolie on the vehicle so if something happens, at least you get the money invested into the vehicle.
First off, a note on this is just advice and not legal or insurance consulting.
Legal Notice: What we are about to say is not insurance or legal advice it is simply how we found others getting this insurance and what we did to have coverage for liability while driving it home. Seek insurance and legal counsel of your own to ensure you are fully covered driving your bus home and during your conversion process.
With that out of the way, here is how we got insurance that covered us on the drive home with our bus and through the conversion process.
We called Progressive and told them we would like to add a commercial vehicle for personal use on our existing policy. Chris has progressive insurance on his motorcycle and has had car insurance with them in the past. When asked, we said we were buying the bus to store some stuff in it on some family property. This was not a lie, as for several months of the build it was basically a storage unit.
Progressive transferred us to their commercial insurance department, where we were asked about the bus and again about our plan with the bus. We ended up getting a commercial vehicle policy, but right on it stated the policy was for a commercial vehicle being used for personal use. Our policy was also mileage limited to a radius of 100 miles from the policy address.
We made sure on the phone that the policy would cover the initial ride (about 500 miles) home to Wisconsin from where we were purchasing it in mid-southern Michigan. The agent confirmed and stated she added a note to our policy about the initial drive, with the location of purchase and policy address as the destination and the dates of travel. We gave them a span of a few days to travel just to be safe.
This policy ended up costing around $260 every six months and we had it for two 6 month terms, which overlapped a few months of our finished skoolie insurance with State Farm.
Full Coverage School Bus Conversion Insurance
For: Finished Skoolies
We were pretty nervous about getting skoolie insurance. We read every article we could find about getting insurance on a school bus conversion insurance and several of them were by some pretty sketched out skoolie owners. (I won't mention any names…) With being nervous, we procrastinated for a few months on getting insurance after the point of our build where we could have actually obtained full coverage skoolie insurance.
You can basically start working to get completed skoolie insurance once your skoolie's exterior meets the requirements of your state, the school bus is retitled as an RV/motorhome, and the interior is near completion. You will probably be asked for pictures, so trying ahead of having all of this done might be a waste.
Below are a few of the original pictures of where we were at with our skoolie when we got insurance. We sent in about 15-20 photos in total, from pictures of the VIN, to the engine bay, to the bathroom facilities, etc. The number of pictures we needed to take were due to wanting full coverage for all of the money invested into the conversion. The exterior was about 80% done and the interior was about the same. From pictures, the underwriter would never really know if the bus was done or not, besides some pictures had plywood flooring, no cushions, etc.
How We Got State Farm Skoolie Insurance
We mentioned a few times that we were nervous about getting insurance on our skoolie. So much so that we weren't transparent right away with the insurance agent of what our vehicle actually was…
We started the process by submitting the contact form to send an email to our local State Farm office. After a few emails of higher-level conversation, I (Chris) got on a phone call with the insurance agent to discuss some of the details about what coverages we were looking for with our insurance so we could get an accurate quote.
During the conversation, I recognized the guy's last name. It was the same last name as his old neighbor when he was in high school that was on my family's bowling team that I was also on. I asked if he knew the guy (my old neighbor). It turns out it was my old neighbor's son who was a few years younger than me. Small world! So we felt like we had an in!
I still played it cautiously, but was a bit more honest while staying on the topic that it was a conversion and we just had 'rebuilt the motorhome'. I also did tell him it was a 2000 International 3800 and all the other details. I did not mention it was a "school bus" once during the conversation, though.
We get off the phone and not even an hour later I get another call.
"Hey Chris, so I was looking up the model and it wasn't in our system under motorhomes. So I went to Google and searched – is this an old school bus, like a party bus?"
He got me!
"Yeah… it's an old school bus we converted and turned into a motorhome. We have it relicensed with the DMV as a motorhome and all the facilities are in it, so it is technically now a legit motorhome."
Long story short, he called the underwriter to explain the situation and that it wasn't a school bus anymore. It was a fully converted motorhome. The underwriter simply asked for specific pictures to attach along with the file so they could see that it was indeed a motorhome and what they were insuring.
Had it not been someone I knew, it most likely would have went the same way. Knowing the guy made our nervousness calm down a bit, as we were family friends and we could easily talk through everything. So, even if you don't know someone at State Farm, someone in your network might. If not, I would just reach out and go through the process.
If you are looking to have you skoolie fully insured, I would highly recommend having the conversion looking 100% complete with everything you want insured installed into your conversion.
I am truly happy that I could come out and be honest with them. We are also very happy they have pictures of our skoolie on file, so there is no way they can claim they didn't know it was an old school bus.
Best Tip: Stay (Mostly) Honest with Your Insurance Agent
I am truly happy that I could come out and be honest with them. We are also very happy they have pictures of our skoolie on file, so there is no way they can claim they didn't know it was an old school bus.
Looking back, I would have probably been honest had I not read all of the other nervous people's posts or watched their videos on YouTube.
If you stay honest, the insurance agent will know what you are looking for and it won't waste each other's time if they think they can't get you what you need. Sometimes they are lazy and don't want to go through the process, while others might think your project is awesome and want to be a part of your journey.
If you find someone who is giving you grief, call another office. Someone out there wants the commission and needs the numbers on their insurance sale performance record.
A few things we made a point not mention specifics around were:
Living in the skoolie full-time or part-time
How many miles we planned to travel each year
When we would be traveling vs parking
This was mostly due to us not knowing some of these details and not knowing if we had answered some of them one way or another, would it have caused us to not get insured.
Our plan ended up being for unlimited mileage, covers us no matter what state we are in, no matter when we are traveling, and no matter how long we have been traveling for…
We also did not have our solar, Cubic Mini wood stove, and a few other items in the skoolie at the time of getting insurance, so we do not know if this would have impacted our ability to get insurance. From research, we see that it did impact some people, but they could have just had a bad agent… Others have huge roof racks and old school wood-burning stoves and still got insurance…
Hopefully, this guide and our story helps clarify the two different types of skoolie insurance and makes the process of getting school bus conversion insurance a little less of an anxiety-ridden process.
If you have any questions or comments or want to share your story of getting skoolie insurance, please don't hesitate to drop it in the comments below!
Cheers!