If you are looking for the best skoolie batteries to power a skoolie, this is the article for you!
We wrote this article purely to help save you money and probably a few (potentially several) headaches.
In this article, we share the story of our bad decision originally buying AGM Gel batteries, which is of why we recommend LiFePO4 lithium iron phosphate batteries for a skoolie.
We also shed a big light on the reality of the lithium battery industry, why lithium from the more common brands you see being installed in skoolies are so expensive, and how you can save money!
Special Note: This article does have affiliate links. If you click a link and happen to make a purchase, we may receive a small commission at no cost to you. Thanks for your support – this small commission helps us to continue educating the skoolie community!
Our Mistake Originally NOT Going With Lithium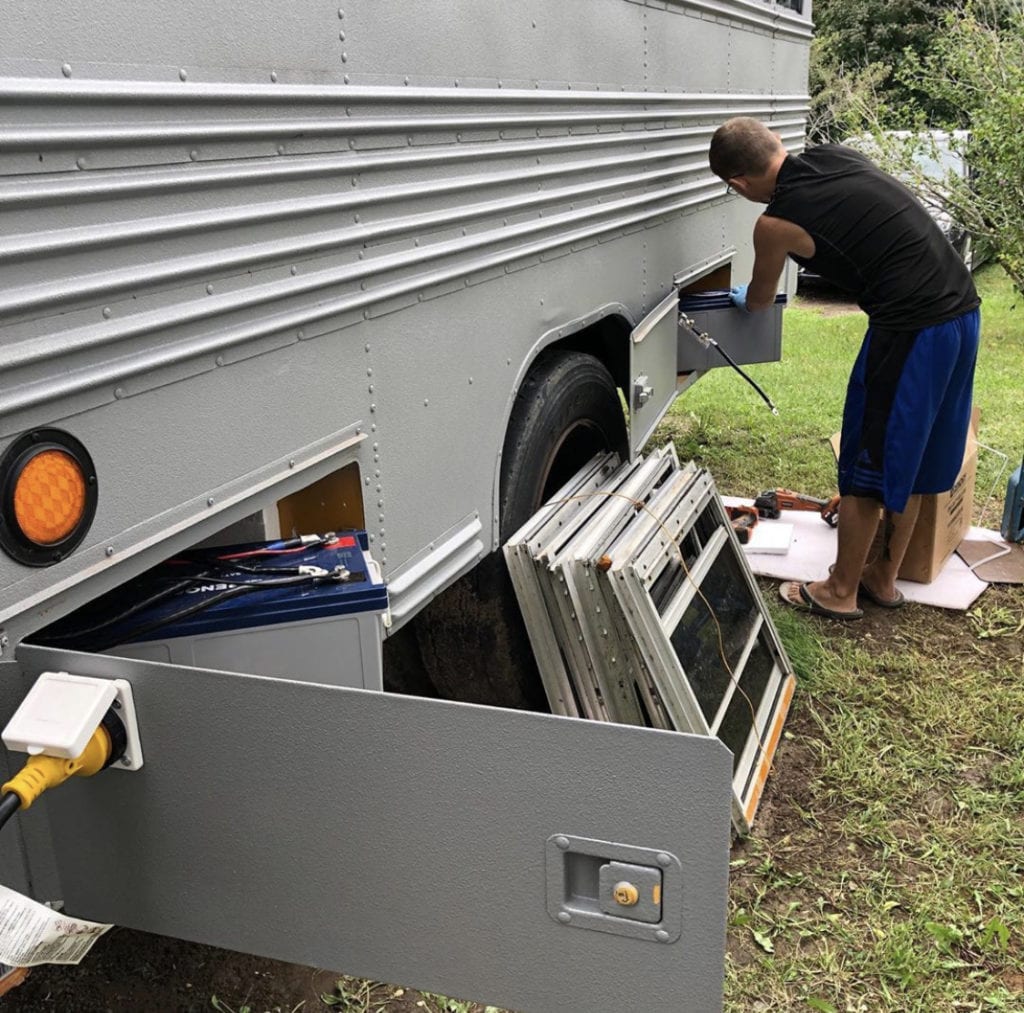 In 2019, Sarah and I originally bought 2x 200 ah Renogy AGM Gel batteries for a total cost of around $900.
Each of the batteries weighed around 130 lbs and we could only use 50% of that storage since going below this level could damage the batteries or shorten their lifespan.
We basically spent $900 on 200 ah of usable capacity, or $4.50 per ah of usable capacity.
This setup added a lot of weight to our skoolie and took up both of our exterior storage bins, as we did not want to put these batteries into our skoolie due to the weight and not trusting them safety-wise.
They also only lasted us about 1.5 days before we were worried about hitting that 50% mark if the sun wasn't good and we had no room to expand this. I honestly couldn't imagine buying and loading up a few more 130 lb batteries into our skoolie. It was ridiculous.
This led us to an upgrade to lithium in May 2021 to increase the capacity to have 4+ days of power storage, while taking up the same amount of space with less overall weight.
Best Skoolie Battery = Quality + Low Cost + Warranty
When Sarah and I started looking for lithium batteries, we focused on getting quality lithium batteries at a good price, without sacrificing on warranty.
If you have done your research, you know that really the only levers these lithium companies have to make more sales is marketing usually done on social media, price, and warranty.
Some brands like Battle Born offer a 10-year warranty at a higher price point than RELiON that offers a slightly cheaper price also with a 10-year warranty. However, RELiON's 10-year warranty is structured with only a full repair/replacement warranty for the first 3 years followed by a prorated warranty covering less of an amount as years go on between years 4-10.
The good news is there is a better option that costs less, has at least the same quality (but potentially better), and a competitive straight-forward warranty.
American Made LiFePO4 Batteries? None.
If you are looking for American-made lithium batteries, you will be looking for a long time.
The fact is that there are no lithium iron phosphate cells made in the United States. All lithium iron phosphate cells are actually made by a handful of companies in Asia.
Companies can claim products are manufactured in America if the majority of the components used in making the product are made in America and the product itself is assembled in the United States.
Most of these highly marketed battery companies are getting around actually making lithium cells here in the United States and still claiming the "Made in America" or "Made in U.S.A." by having all of the other components and assembly done here – while sourcing the main lithium iron phosphate cells from China.
Buying Our SOK Batteries
I do want to be 100% transparent with you to make sure that we aren't just coming across as sort of bashing the big brands for compensation from another company.
We bought LiFePO4 lithium iron phosphate skoolie batteries from SOK Battery for full price.
Even with paying full price, their products are priced 35-50% less than similar products from the more heavily marketed Battle Born, RELiON, Lion Energy, or others.
SOK even offers a competitive 7-year full warranty!
We will dive further into these benefits of SOK Battery later in this article.
Finally, we could have submitted this article to SOK Battery for $100 rebate for writing this review, but we did NOT do this as we don't want you to think we were paid to write all this.
We paid full price.
We waited 2 months for them to ship as they were on backorder.
We also turned down a $100 rebate.
We spent over $4,000 on 4x 206 ah SOK batteries since they offer quality batteries at a much lower price point than American assembled batteries, with the same quality materials used and a competitive 7-year warranty.
Finally, we are an affiliate for SOK Battery. This means we will receive a small commission at no extra cost to you for sharing this cheaper, better option with you if you decide to buy SOK Batteries. For us to receive this small commission, you would either have to use code "SKOOLIE" at checkout onSOKBattery.com or click a link in this article. This commission helps us to continue to keep searching for great products at good prices such as this to write helpful content for you and others in the skoolie community.
With that full transparent disclosure out of the way, let's continue on with skoolie battery talk.
Benefits of a Skoolie Lithium Battery Bank
LiFePO4 lithium iron phosphate has a lower total cost of ownership compared to AGM, AGM Gel, or other deep cycle batteries, at least if you pick the right battery company to buy from that isn't overcharging.
Other benefits include a longer lifespan, lower maintenance, and less weight!
The final benefit of lithium batteries in a skoolie is what you buy is what you can use! You don't necessarily always want to drain your lithium batteries all the way dead every time, but you can if you need to when you don't have any other option. Draining them down to where the battery management system has a low voltage cut off is OK with lithium. That is why this feature exists is to protect the battery.
However, with all other types of batteries (AGM, AGM Gel, & Lead Acid) you will have to be careful not to go below 50%. If you do go below 50%, you can damage them or significantly reduce the lifespan.
Are Skoolie Lithium Batteries More Expensive?
Lithium iron phosphate batteries can actually be much cheaper than Lead Acid, AGM, and AGM Gel batteries if they are bought from a company that is not inflating prices to cover large marketing budgets.
The larger, heavily marketed brands promoting their LiFePO4 batteries to the RV, skoolie, and van life communities will cost $8-10 per usable amp hour. Under normal conditions with proper care, these batteries should last 10+ years. Using 10 years for lithium, these will cost around $0.80-1.00 per usable amp hour, per year.
AGM Gel would be my next option since they are sealed and require no maintenance. Like I already mentioned, we went this route and paid $4.50 per usable amp hour. AGM Gel will last around 5 years, so they will cost around $0.90 per usable amp hour, per year.
I personally would not go Lead Acid or AGM due to the lifespan of 5 years or less, not being sealed from potential leaks, and the maintenance required.
LiFePO4 batteries from a high-quality, low-cost company like SOK Battery that focuses more on pleasing the customer to let word of mouth take over will cost around $5-6 per usable amp hour. Like the highly marketed lithium batteries, these will also last at least 10 years, so these will cost around $0.50-0.60 per usable amp hour, per year.
Upfront the price tag is more for Lithium than AGM Gel, AGM, or Lead Acid. However, as long as you aren't paying for some company's marketing budget you will be money ahead after a few years.
Don't Give Into the Marketing
When it comes to Lithium Iron Phosphate batteries, you have probably seen many people who are currently building or living in a skoolie using Battle Born, RELiON, Lion Energy, and a few others.
Companies like this are doing some awesome marketing. A big focus is on product placements through giving discounted and sometimes free products to "influencers" on Instagram, TikTok, and/or other social media platforms to stay in front of the RV, skoolie, and van life communities.
As such, more people tend to buy these products because they see others are using them as their skoolie batteries or in other RVs and van builds. The higher profit margins from the sales of the premium-priced products provide these brands with more money to turn around and do marketing – then the cycle continues.
The retail prices for the batteries from these companies cost $800-1,000 each for 100 amp hours, or $8-10 per amp hour.
Sarah and I use on average 100 amp-hours per day. For us to get enough batteries to hit our goal of storing 3-4 days worth of power from one of these companies we would have spent anywhere from $6,400 to $8,000!
The only way I would recommend going with these companies for skoolie batteries is if you can get free batteries in exchange for creating some content with them. Most of them will offer some form of discount to "influencers" in exchange for content, such as $100 off per battery or somewhere around 20-30% off their products.
Yet, even with these discounts, they will all still be more expensive than theSOK Batteries unless you get them for a discount of 40-50%, or more.
That is why we went with SOK Battery.
SOK Lithium Battery Review = Affordable Quality + Piece of Mind
There are a few benefits to SOK Battery that I want to review here that explain why we went with these batteries fromSOK Battery.
Afforable Compared to Competitors
We ended up spending around $4,000 to get 4x 206 ah SOK Battery, a total of 824 amp-hours of capacity at 12V.
That same capacity would have cost:
We set up our system to be 412 am hours at 24V in June 2021. Since then, we have been entirely off-grid with this battery bank and our 1280 Watts of solar panels.
Reviews Praise Quality (They Didn't Lie!)
If you look at the SOK Battery review list on the product pages, you can see that almost every single one of them
Before installing them, I took them apart as you can see in the picture below. I checked all the cells to make sure everything was balanced and matched well.
One of the best features about SOK Battery is that you can get your batteries in metal boxes with a removable top like this. All you do is take out the screws around the battery cap and it pulls right off. This way you can service the cells, replace a cell if needed, replace the battery management system (BMS), or just check to make sure all the components are still secure a few years down the road.
If you would rather get a sealed battery case, they now have that option, too! See the Marine Grade Sealed Plastic Box 206 ah SOK Battery here.
After installing them, we had to run a test to see just how long we could live off batter storage with no incoming charge. We were able to live without throttling our power used for over 4 days on just battery power during a trip to Door County, WI in July 2021.
We have had no issues and the batteries tested out to have the capacity stated. The cells were the quality as advertised.
7 Year Full Coverage Warranty
The SOK Battery warranty is pretty comprehensive covering everything besides user error causing damage to them.
This includes SOK Battery repairing or replacing the units during the warranty period at no charge for products, parts, and labor if a product is defective because of improper material or workmanship under normal use and maintenance – excluding shipping of the units back and forth to SOK Battery. They also state the warranty is transferable.
You can read the full SOK Battery warranty policy here.
SOK Batteries Are High In Demand – Order Ahead
My final thought on these is how high in demand these batteries are. For the last 6 months we have watched them come into stock and within a day or two be out of stock.
SOK does an awesome job at keeping notes on the product pages of when the next batch is expected to ship. They also respond very quickly to inquiries about when your specific order will ship.
With all that said, I would plan ahead and place an order for SOK Battery lithium batteries so they will arrive 2-4 weeks before you need them.
When we ordered them in March 2021 we knew our ship date was in May 2021. They shipped on time, but we planned ahead to make sure we got them and did the upgrade several weeks before taking a longer trip.
Click Here to see current SOK Battery LiFePO4 Lithium Iron Phosphate battery options.