When it comes to building out a skoolie roof deck, you need to think about a few different things: placement and the material you are going to use.
In this article, we will walk through the decision criteria for each of these decisions as well as many skoolie roof deck ideas to inspire the build-out of your rooftop deck.
Skoolie Roof Decks
Between the skoolie roof deck placement and the material to use for the deck, there are quite a few things to think about when building a skoolie roof deck.
I'm going to dive deeper into each one of these below for you so you can get a perspective of the differences and how you can expect to use and build the roof deck after making some of these decisions.
Roof Deck Placement
You can essentially place your skoolie roof deck near the back of the bus, near the front of the bus, or do a full-length roof deck. Typically, what you will be putting on the roof of your bus is solar panels, a deck, and any extra exterior storage you want. Be sure to keep this in mind when deciding on the placement of your skoolie roof deck.
Below we'll go through each of these different skoolie roof deck placements in detail and talk about the pros and cons of each of them.
Near the Rear of the Bus
This is definitely the most popular skoolie roof deck placement of them all. Many people opt to install their solar panels upfront and their roof deck near the back. This is because of things like roof raise transitions, skylights, emergency hatches, etc. These things make it hard to install a large roof deck near the front of the bus where it interferes. The back usually has a larger area to hang out and enjoy the space.
If you place your skoolie roof deck near the back of the bus, you can also install a ladder at the back of your bus and access the deck that way.
Pros:
Ladder can be placed at the back of the bus
Larger surface area to enjoy in the back
Cons:
More weight added towards the back of the bus where other heavy things are usually also located (fresh water tanks, grey water tanks, tow vehicle, etc).
Near the Front of the Bus
A skoolie roof deck near the front of the bus might be a good idea if you are not doing a roof raise and have just one emergency hatch. This leaves room for a lot of solar panels in the back of the bus.
A nice idea of having the deck towards the front is the fact that you may not need a ladder then. You could just get on the hood and then get up to the roof that way versus installing a ladder.
Pros:
Cons:
Might need to alter it in a way to make it aerodynamic
Full Lengthwise Deck
A complete full-length skoolie roof deck is another option that may pique your interest. This can be beneficial if you want to store kayaks, paddleboards, or an extra storage containers on top of your bus. You can also build out the full-length rooftop deck and mount your solar panels to it.
A full roof rooftop deck can be beneficial in so many ways, but be sure to budget out how much it will cost for materials and make sure you don't exceed your GVWR in doing this!
Pros:
More storage
Can securely mount solar panels this way
Cons:
Will cost more money for lumber
Materials will be heavy – check for GVWR and weight limitations
Roof Deck Material
There's plenty of different lumber to use for your skoolie roof deck. Remember the roof needs to be able to hold up to extreme weather, so picking out a solid and hardy material that will last a long time is necessary. We'll go over some of the more popular options from cedar to treated lumber to composite decking.
Cedar
Cedar is a great option for a skoolie roof deck, as it has natural rot resistance properties, is weather resistant, and is a natural bug repellent. It's a sturdy type of wood that will hold up outside in the elements for a long time to come. Be sure to give it a good light seal to protect it from the sun and moisture.
Treated Lumber
Treated decking lumber is probably the most popular option for outside wood projects. "Treated lumber" means there was a chemical injected into the wood to fight off decay, insects, and moisture. This deck material option also needs to be given a light coat of sealant. But be careful as this wood can still warp, split, and have mildew.
Composite Decking
If you want a roof deck with minimal upkeep, composite decking may be the way to go. Composite decking is made from recycled wood, fibers, and plastic. The upkeep of this type of decking is really just washing it yearly so it doesn't build up with dirt and grime. You can also give it a light seal to help protect it further.
The downside to composite decking is that it is actually heavier than wood decking. So if you are looking to keep the weight to a minimum or looking to do a full-length deck build, composite decking might not be the way to go.
Skoolie Roof Deck Ideas
Below find 7 skoolie roof deck ideas from other skoolie owners. You will find full-length rooftop decks and rear rooftop decks.
Short Bus Rooftop Deck
This skoolie roof deck stands tall. If you're going to build out a rooftop deck, be sure you know the standard clearance rules.
Floating Skoolie Rooftop Deck
The look of this skoolie roof deck is unbelievable. It appears to be floating yet it is very structurally sound. If you're looking to build a skoolie roof deck like this, you want to be sure you are drilling into the metal ribs of the bus ceiling.
Flat Skoolie Rooftop Deck
An almost full-length skoolie roof deck, this short bus roof deck idea just falls short of a full-length one. The solar panels are mounted in front while the deck was placed in the back. I like how they mounted a board all the way down on the side of the of the roof. This allows them to mount the solar panels to that side, which are then mounted to the steel ribs.
Rooftop Deck with Guard Rails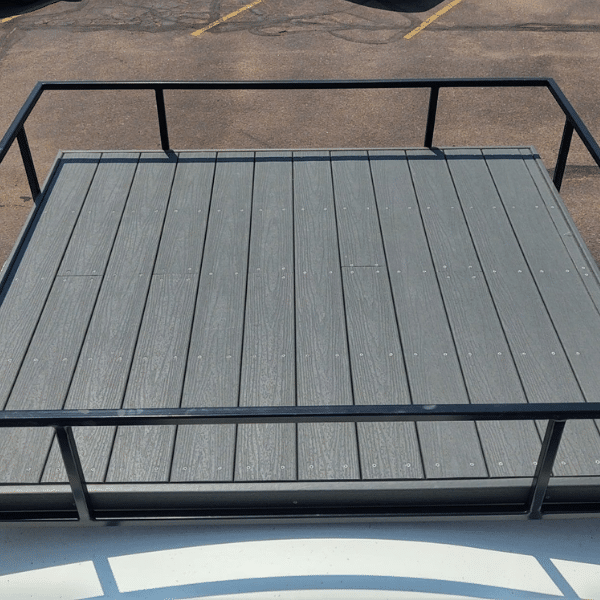 If you have a fear of heights, building a skoolie deck might still be an option for you if you build it out with guard rails. Being on top of a school bus for the first time can make anyone a little uneasy. Building a roof deck with guard rails will help you feel more grounded when on top of the deck.
Alternatively, I like how these skoolie owners used composite decking wood versus real wood to build out their rooftop deck. This will help the deck to last longer and have minimal maintenance to it!
Skoolie Rear Roof Deck Idea
Many people who build out skoolie roof decks build them towards the back of their bus while keeping the solar panels toward the front of their bus. If you need more space for solar panels, the deck is a great idea as you can still mount more solar panels to the deck, if need be!
Skoolie Roof Raise Roof Deck Idea
First of all, what an interesting skoolie in the sense with the roof raise with the skylight, bringing up the windows up in the roof raise. But we're here to talk about skoolie roof deck ideas so let's do that. A simple way to complete your roof deck is to do it the same way you mounted your solar panels. For this skoolie, the owners decided to mount the steel for the solar panel rack and the rooftop deck to the metal structures of the bus. This allows the solar panel rack and rooftop deck to be more secure rather than mounting them elsewhere.
Skoolie Deck Idea with Storage
Another "floating skoolie roof deck idea." This roof deck was made out of cedar. Cedar has natural rot resistance qualities and is much lighter than treated wood. They mounted posts to the steel ribs and then mounted the cedar boards to those posts to create this floating skoolie roof deck.